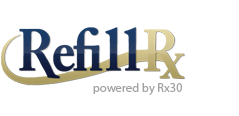 Frequently Asked Questions
What is RefillRx?
RefillRx is a refill site that is utilized by pharmacies using Rx30 software to manage their pharmacies. This website allows you to register, login and refill your active prescriptions with your pharmacy. It is an online portal into your active prescriptions and does not save any of your identifying information online.
Can I use RefillRx?
You must have an active account with an Rx30 powered pharmacy. If you are unsure if your pharmacy is part of this network, you can try to locate your pharmacy or ask your pharmacist. If you cannot locate your pharmacy, check with them to be sure they are part of the RefillRx Network and that your information is correct.
How much does it cost?
It's free! There is absolutely no cost for customers utilizing the online refill system. We deliver your prescriptions in a secure, hasslefree way while saving no identifying information online. This is a complimentary service that is provided by the software that powers your local pharmacy.
How many pharmacies or users can I have on my account?
You can have up to five pharmacies on your account. They must all be utilizing Rx30 software and be registered with the RefillRx Network. If you are not sure if your pharmacy is part of this system, you can ask them or search for them in the registration process.
Can I add my family members to my account?
Yes! You can register your first account and while logged in, you can add up to 4 additional users to your account. Please note, your account settings (i.e. Email reminders) are for all users on your account. If you want them to be separate, you must create a new account for each user.
Why do I automatically go to one of my pharmacies profile when I log in?
In your account settings you can tell the system where you want to be directed upon login. If you only have one pharmacy, it will default to their profile. If you have more, you can set it to go to another or your pharmacy list.
Why can I contact some of my pharmacies and not others online?
The pharmacies can determine whether they want email correspondence. If they have determined that they do not, you will not see the option to contact them through the site but you can always use their phone number.
How do I add multiple pharmacies?
You must create your account through the registration process where you will add your first account. After you have registered and logged in, you will have the option to add additional pharmacies to your account and remove them from your account as well.
My prescriptions are wrong or missing.
RefillRx.com is just an online portal for what your pharmacy has on their system. We can't help you with prescription issues. The best thing you can do is contact your pharmacy directly, whether that be over the phone or using the assistance feature while logged in. Any emails sent to the support staff, will tell you the same thing. RefillRx.com is not your pharmacy, it's only a refill portal.
How secure is RefillRx.com?
We use industry standard SSL and other security measures for every transaction and connection we use in delivering your prescriptions in a simple and secure way. None of your information is ever stored online, it is only displayed during your active session.
Do you use cookies?
We use cookies with your internet browser to help keep your session alive so that we can deliver your custom prescription profiles while you are logged in. Once you logout, your session cookies are destroyed and you are not tracked past RefillRx.com. We respect your privacy and want you to be sure that cookies are only used in delivering your custom information.
I've found a bug, what do I do?
We strive to keep the site as bug free as possible. If you do run across one, we would greatly appreciate a quick note to let us know. To send us a note, click on "Assistance" above (while logged in) and click "Technical Website Help" from the email recipients dropdown. Please include your Operating System, and browser with version number.
What if I forgot my login info and can't remember my email or username?
We suggest using the lost password function but if you cannot enter your username and email, the best thing to do is to create a new account. Your old account is just a way to access your prescriptions and holds no personal data. You can just recreate a new account and re-authenticate your pharmacy information.